Artist Bio ︎

With a background in Punk Rock and Indie music, Ginette Chittick is a member of one of Singapore's pioneer ArtRock/Shoegaze bands, Astreal, a DJ and was a prolific punk musician and zinester of the early 90s punk scene. Starting her graphic design exploration with grimy photostating machines, dot matrix printers, typewriters and cut-up-&-paste techniques, Ginette delved into the themes of gender, Riot Grrrl, punk rock ideology and feminism in one huge slugfest of personal narratives. Originally trained as a web/graphic designer, her exploration into the realms of music, fashion, art, textiles/fibre and photography has led her to work on the themes of love, memory, gender and lived experience, and the blurring of lines between the worlds of the craft, design and art. Punk Rock imagery still influences much of her work as does the DIY ideology which pervades her process of making.


With her recent exhibitions, "Planes and Envelopes" and "This, That." (2019) and "Sewing Discord" (2021) Ginette investigates the role of feminised craft practices that her research partner and her termed as Aesthetics of Care and its place in contemporary art and design. Her practice includes tapestry weaving, latch hooking and handspinning yarn made of a blend of locally harvested Kapok cotton and Merino wool.


She holds a Master of Art (Design) and leads the Diplomas in Fashion and Creative Direction for Fashion at the School of Fashion, Faculty of Design, LASALLE College of the Arts.


Past Shows ︎

In Flight - 2003 /
20/20 Design Exhibition - 2007 /
100 friends - 2012 /
Singled Out - 2014 /
Cities & Their Thesis - 2014 /
Light to Night - 2016 /
Planes and Envelopes - 2019/
This, That.- 2019 /
Sewing Discord - Jendela Visual Arts Space 19 April - 29 August 2021 /



On Show ︎
︎

Upcoming Shows ︎

Vence Artist Residency Exhibition - TBC /




Contact ︎
Email










This Must Be The Place, Echoes and The Diamond Sea showed at the Sewing Discord exhibition at Jendela, Esplanade, Singapore, April - August 2021.
All works are for sale. Please email to enquire which pieces are still available ︎


This body of work explores the relationship between visibility and the value of labour in three bodies of work created using the craft techniques of weaving, yarn-spinning and latch hook embroidery. The "circuit breaker" lockdown and the imposition of work-from-home arrangements in Singapore as a result of the COVID-19 pandemic shifted perceptions of space and time. In response to these profound changes, I began creating (This Must Be The Place, Echoes and The Diamond Sea), sculptures and assemblages inspired by the room divider or Shoji screen which is traditionally used in homes to divide a living space into private (unseen) and common (seen) areas. The notion of the screen, and its symbolic separation of the domestic and the public, also serves as a metaphor for the often unseen physical and emotional labour of women in the home. By employing domestic craft techniques commonly used to create decorative objects like wall hangings and foot rugs found at home, I aim to challenge perceptions of what craft is associated with.

About The Exhibition
Sewing Discord is an exhibition that brings together 5 artists/designers whose creative approaches incorporate aspects of crafting technologies such as weaving, embroidery, origami and cross-stitching. Whilst interrogating other mediums such as painting, sculpture an architectural forms, their use of craft as a methodology is one that seeks to reinterpret the position of craft in the hierarchy of visual culture. Commonly seen as a medium used by women in domesticated spaces - it is devoid of power and strength and one that is perceive as purely decorative and trivial.

Whether they are using personal narratives as an anchor point or negotiating visual forms through the lenses of sculpture or painting, craft as a method is meant to raise conversations about the unspoken, unseen and invisible. In many ways, th artists intend for the craft technique/s used to create deceptions of craft's commonplace meanings and allusions. Thus, Sewing Discord is meant to draw one's stereotypical perception of craft and seeks to thwart and upset the meanings it had come to possess.
Developed in residency at the studio of Jean Dubuffet, founder of Art Brut, Vence, France, 2019.
Drawing from Jean Dubuffet's creative primitivism, off-cut wood, painted jute and a handspun yarn of self-harvest kapok cotton and merino wool were used to create these abstract forms which were composed in response to the flora and fauna of beautiful Southern France.

Though geometric in shape, naturely forms come to mind as one gazes upon the abstract assemblages. The textile articulation has a painterly quality that takes reference from Dubuffet's free, expressive rendering and playful approach.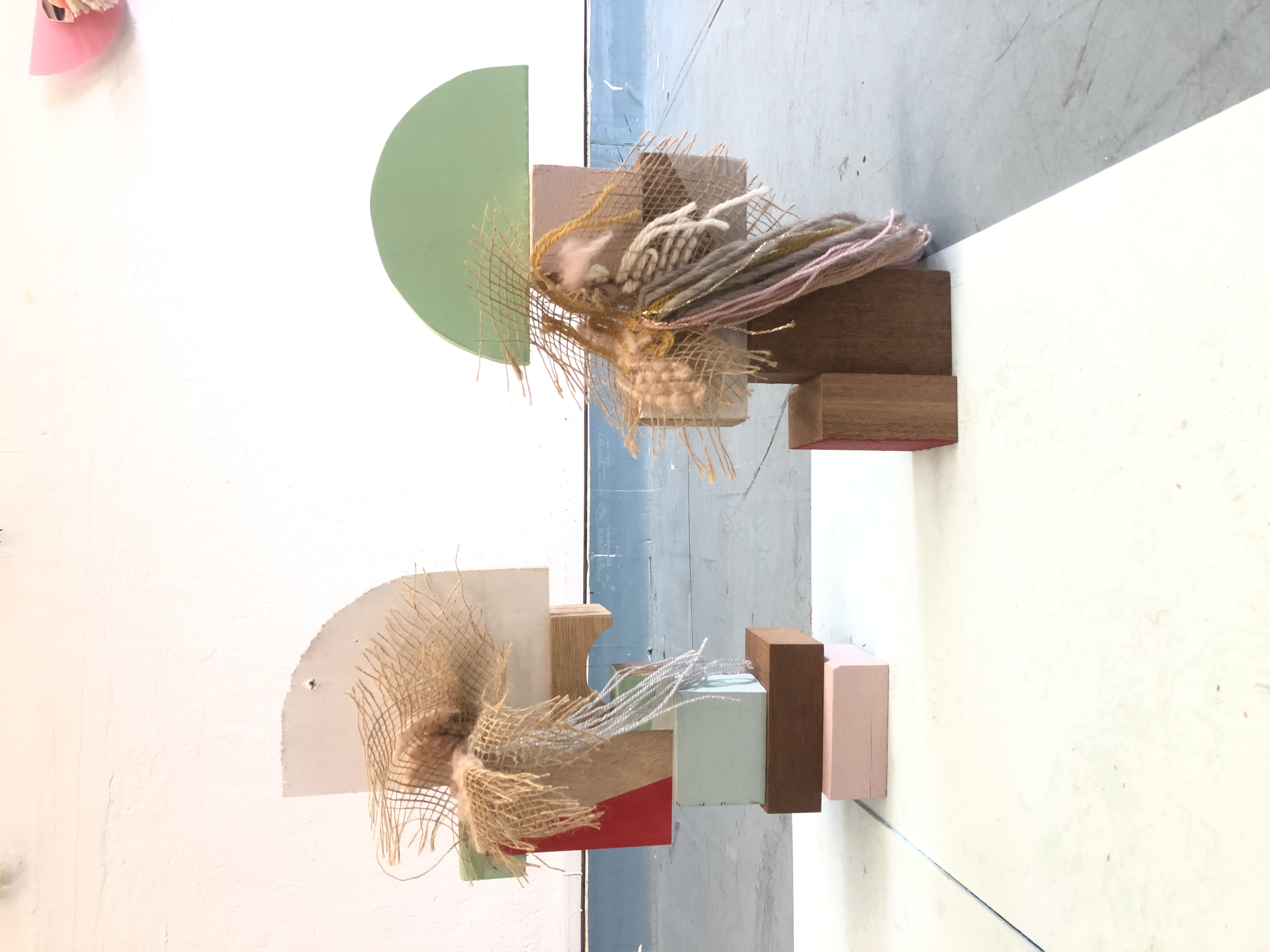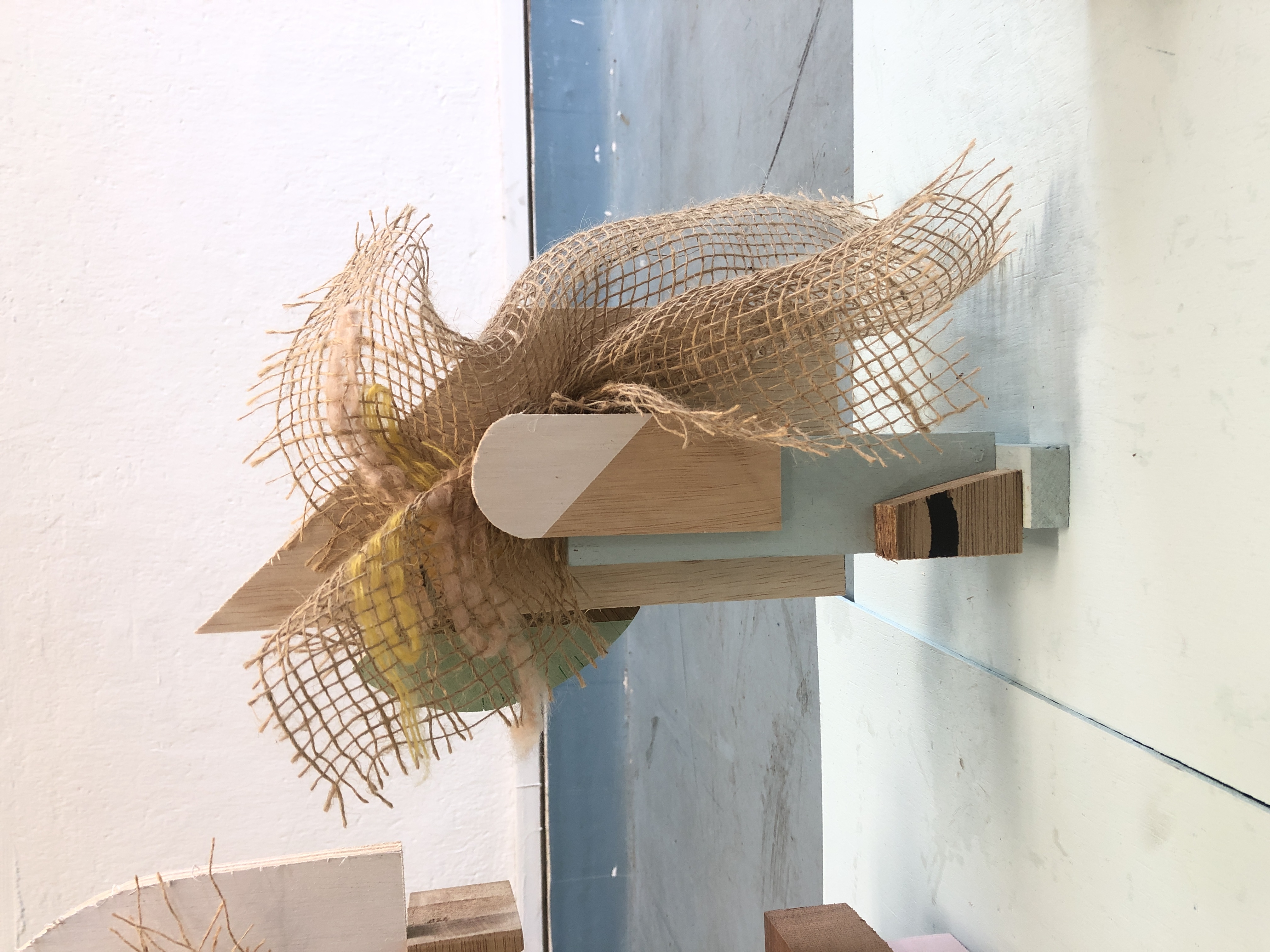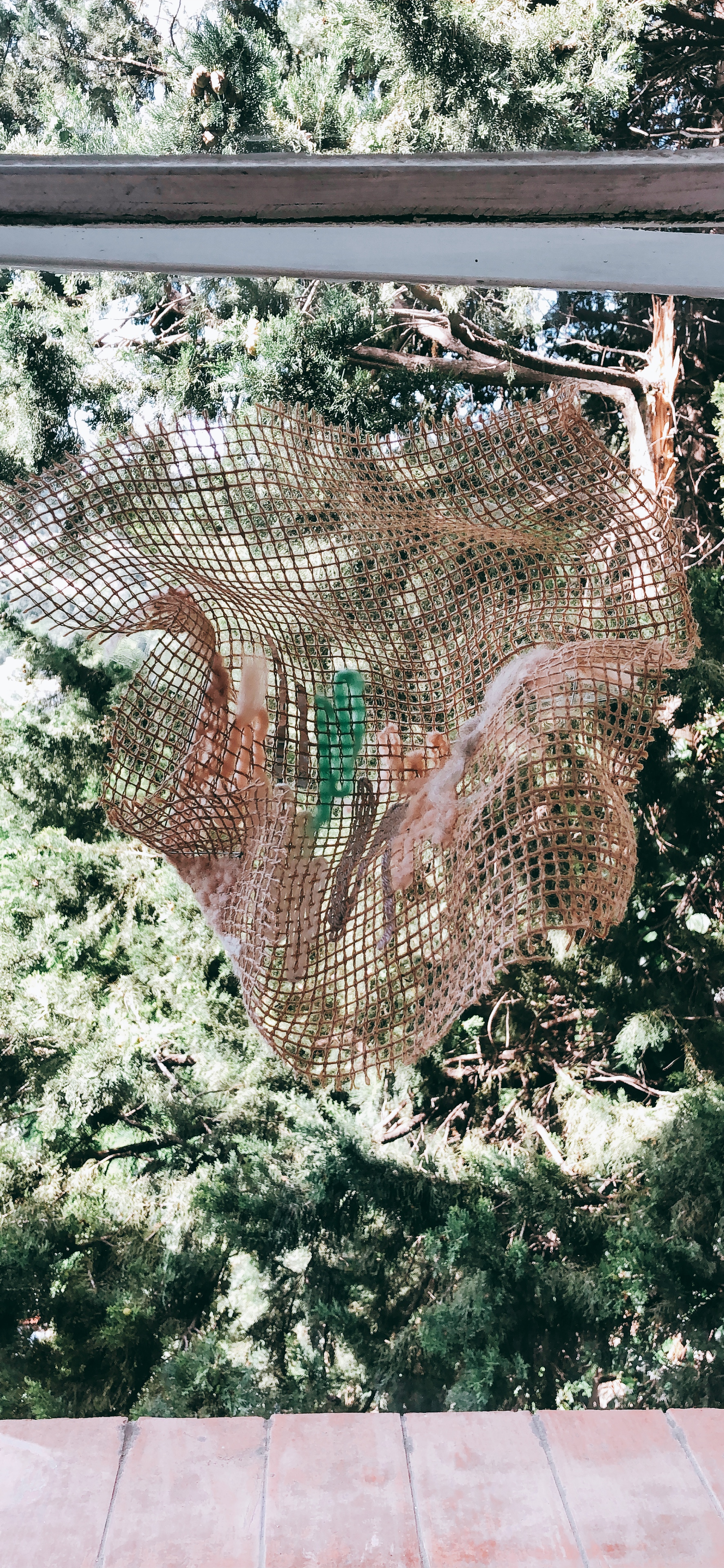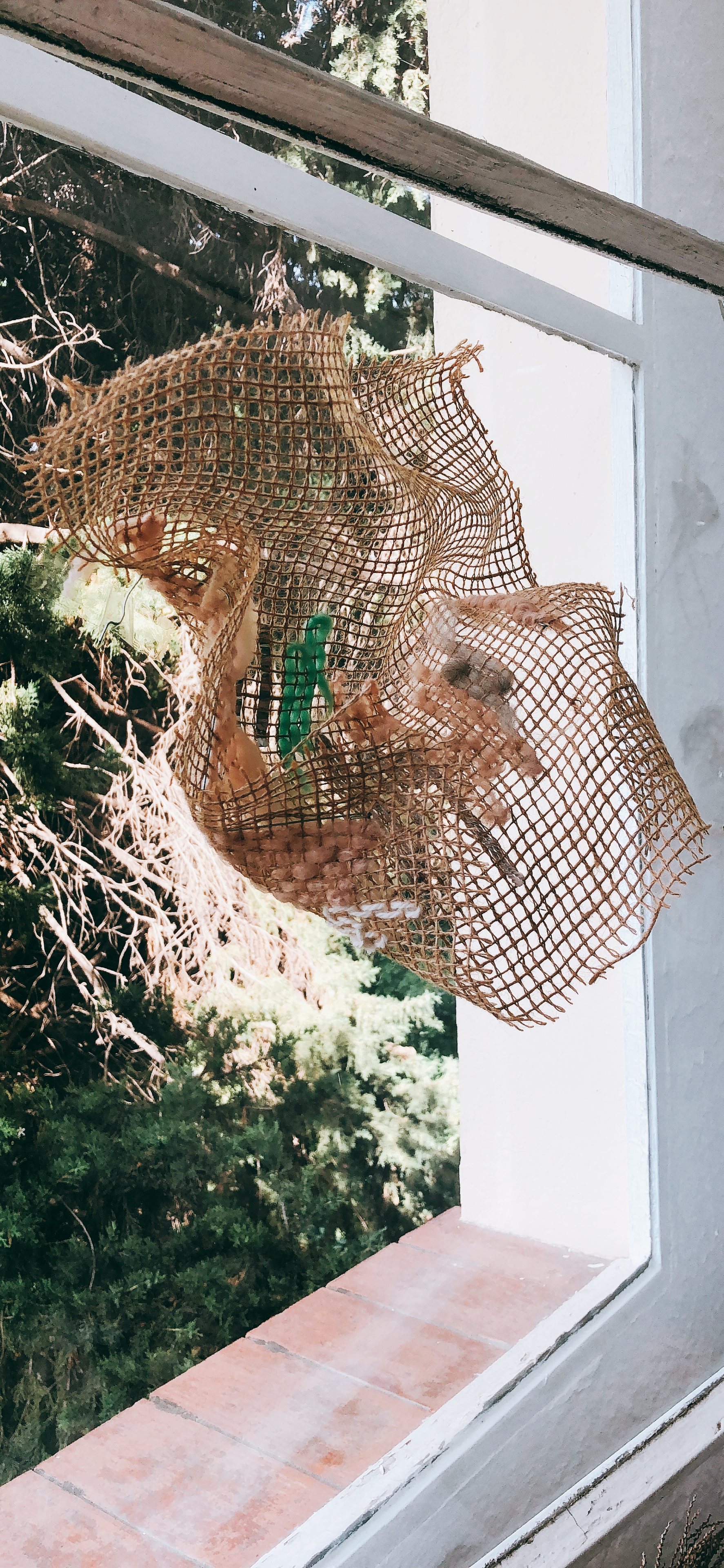 ︎This, That.
Solo exhibition at Telok Ayer Arts Club, Singapore, 2019.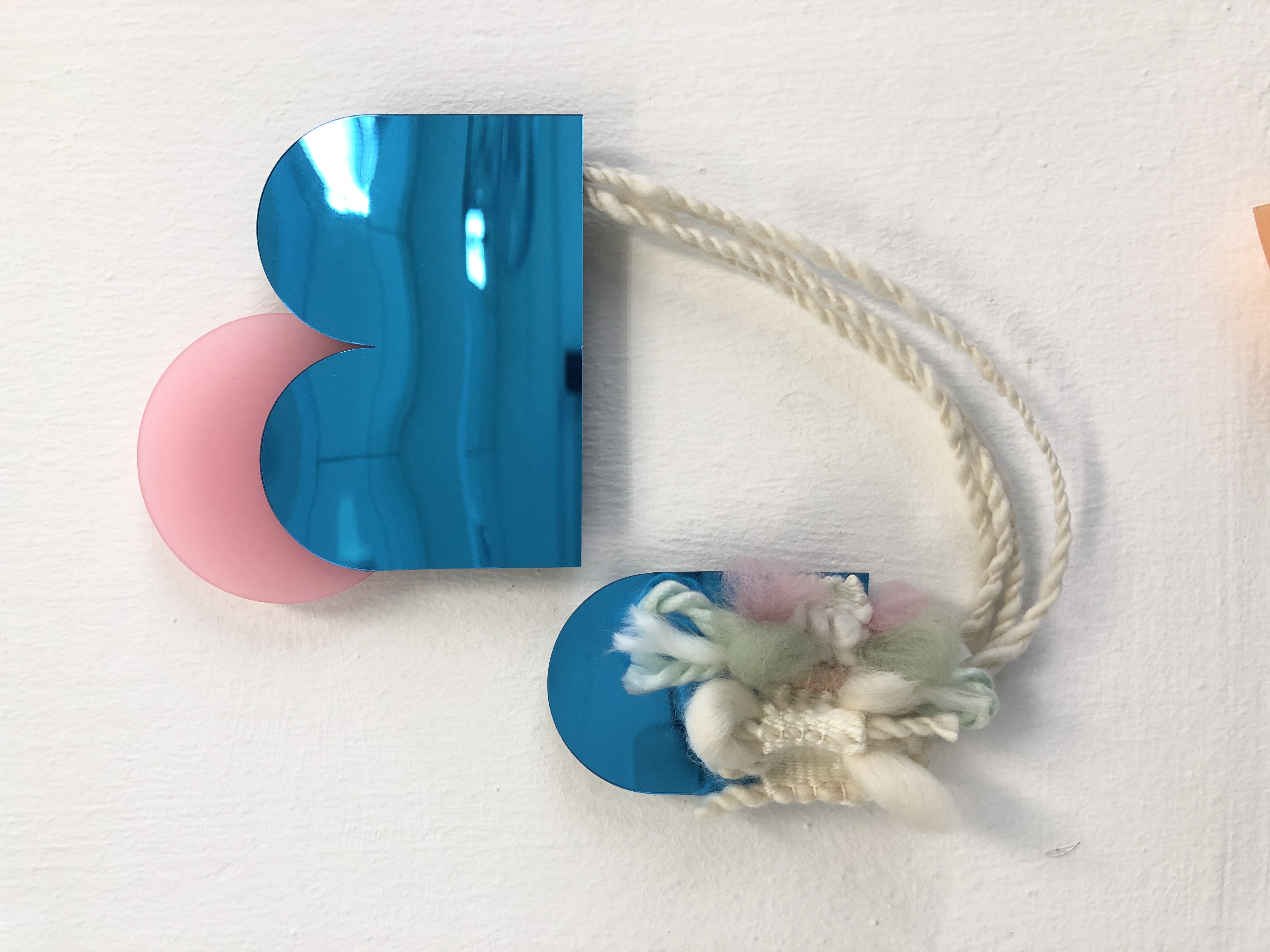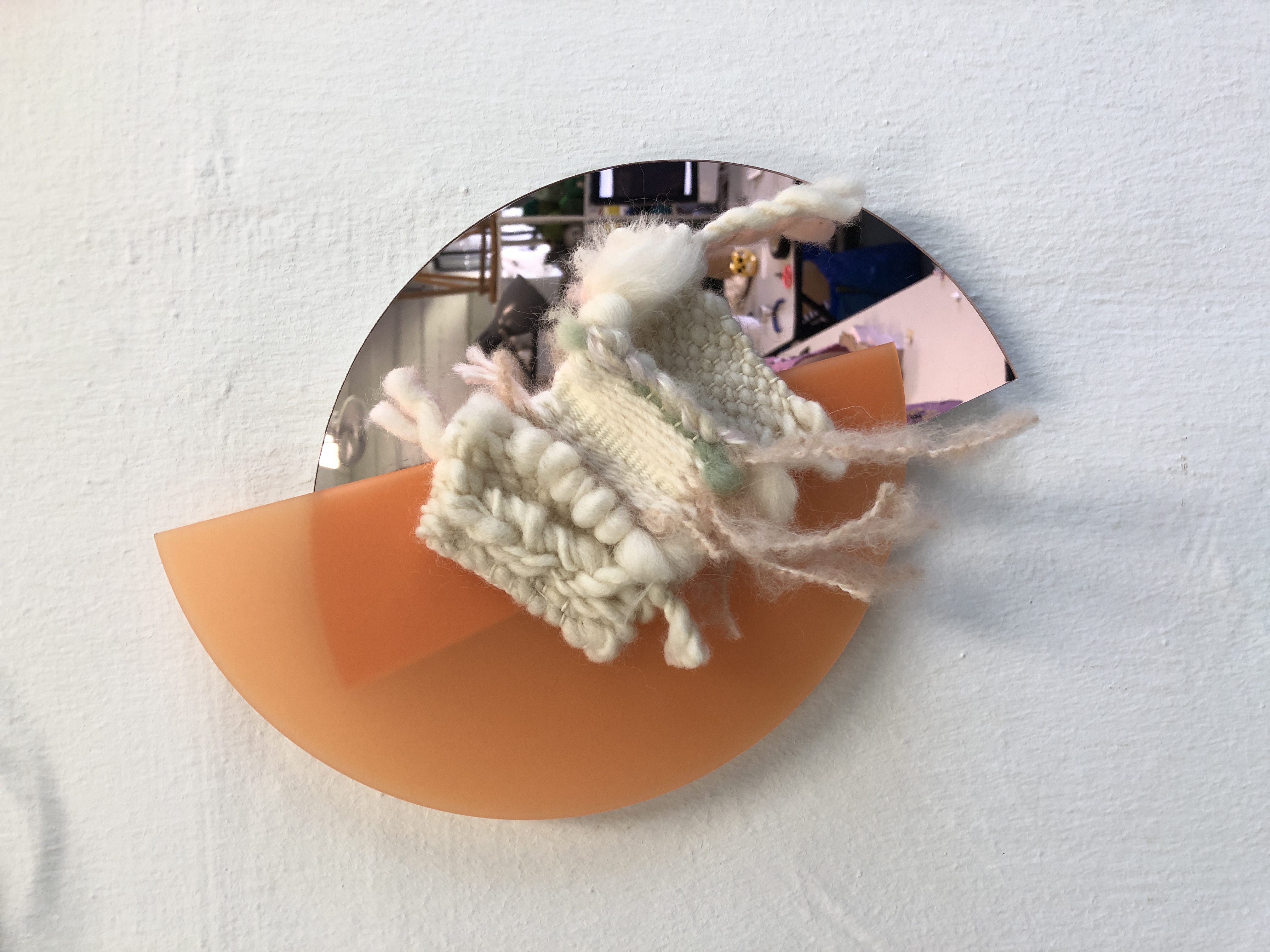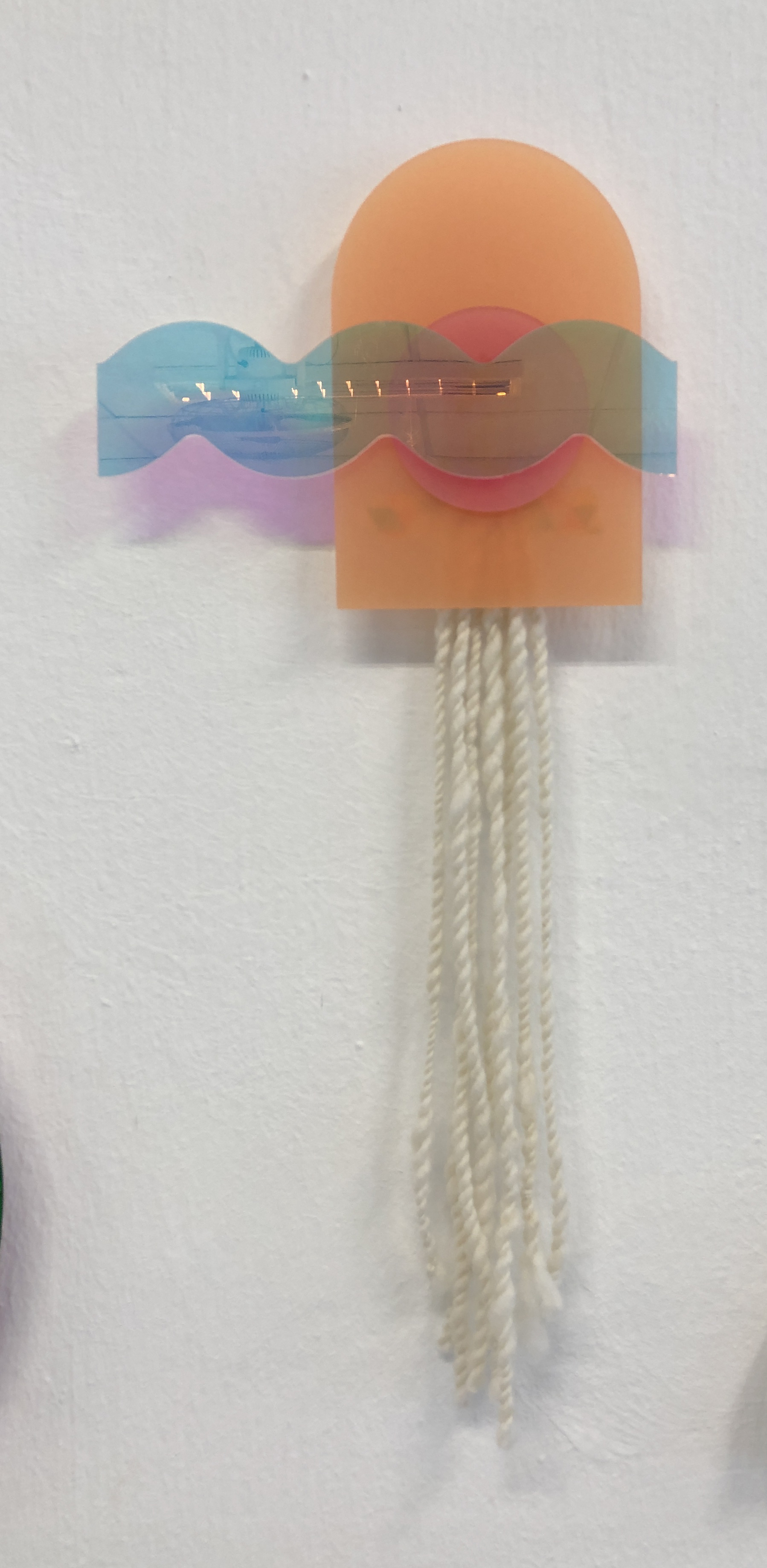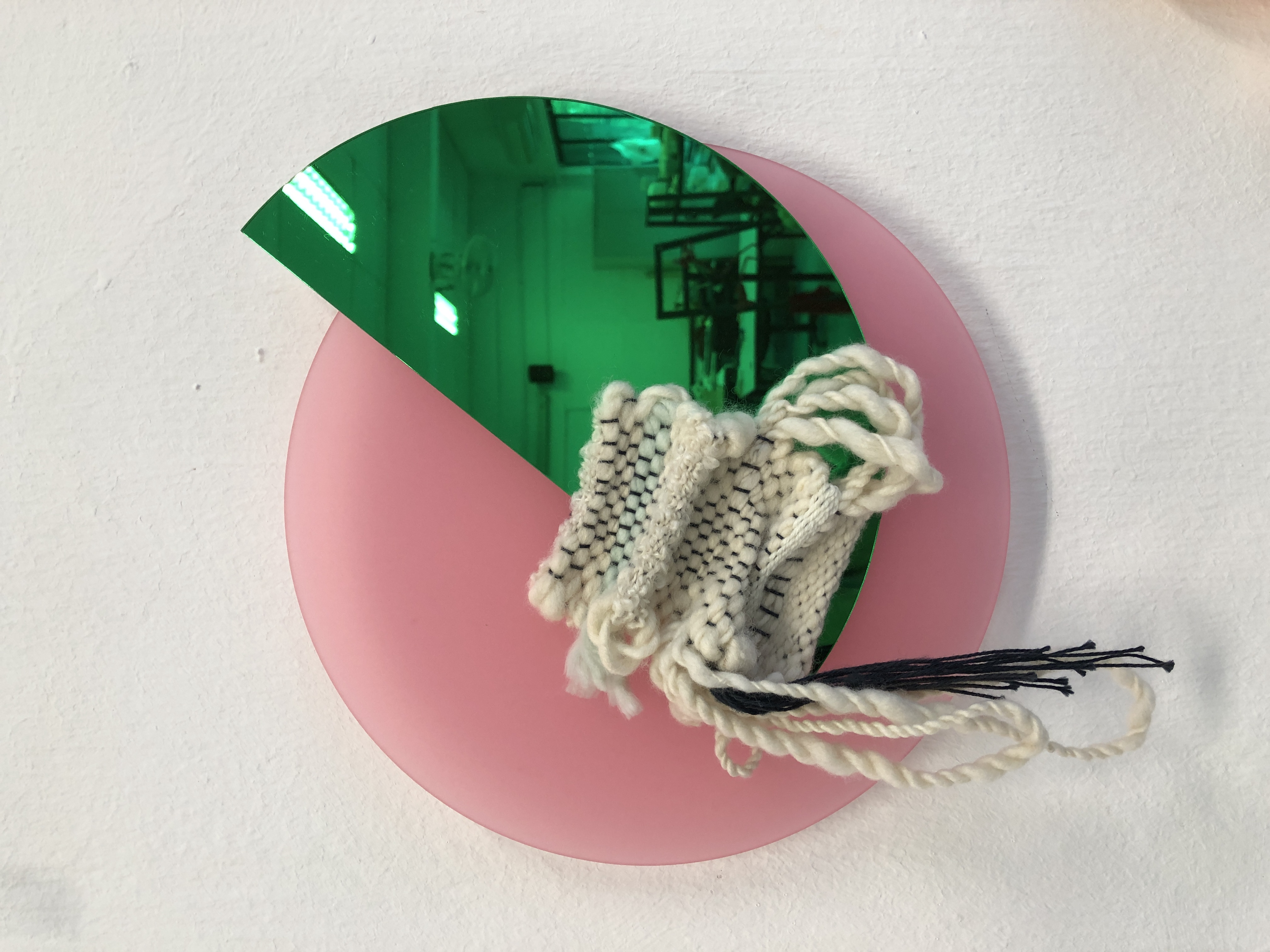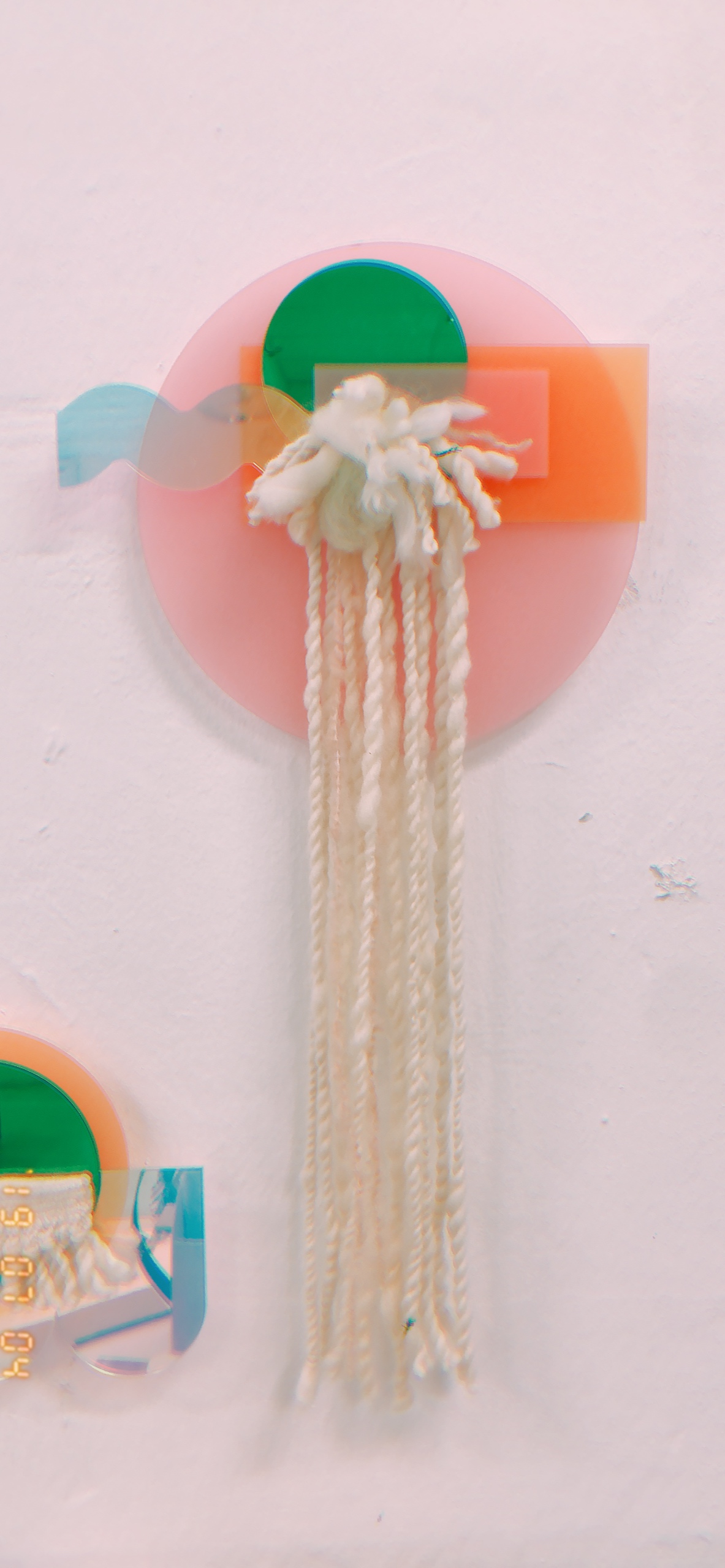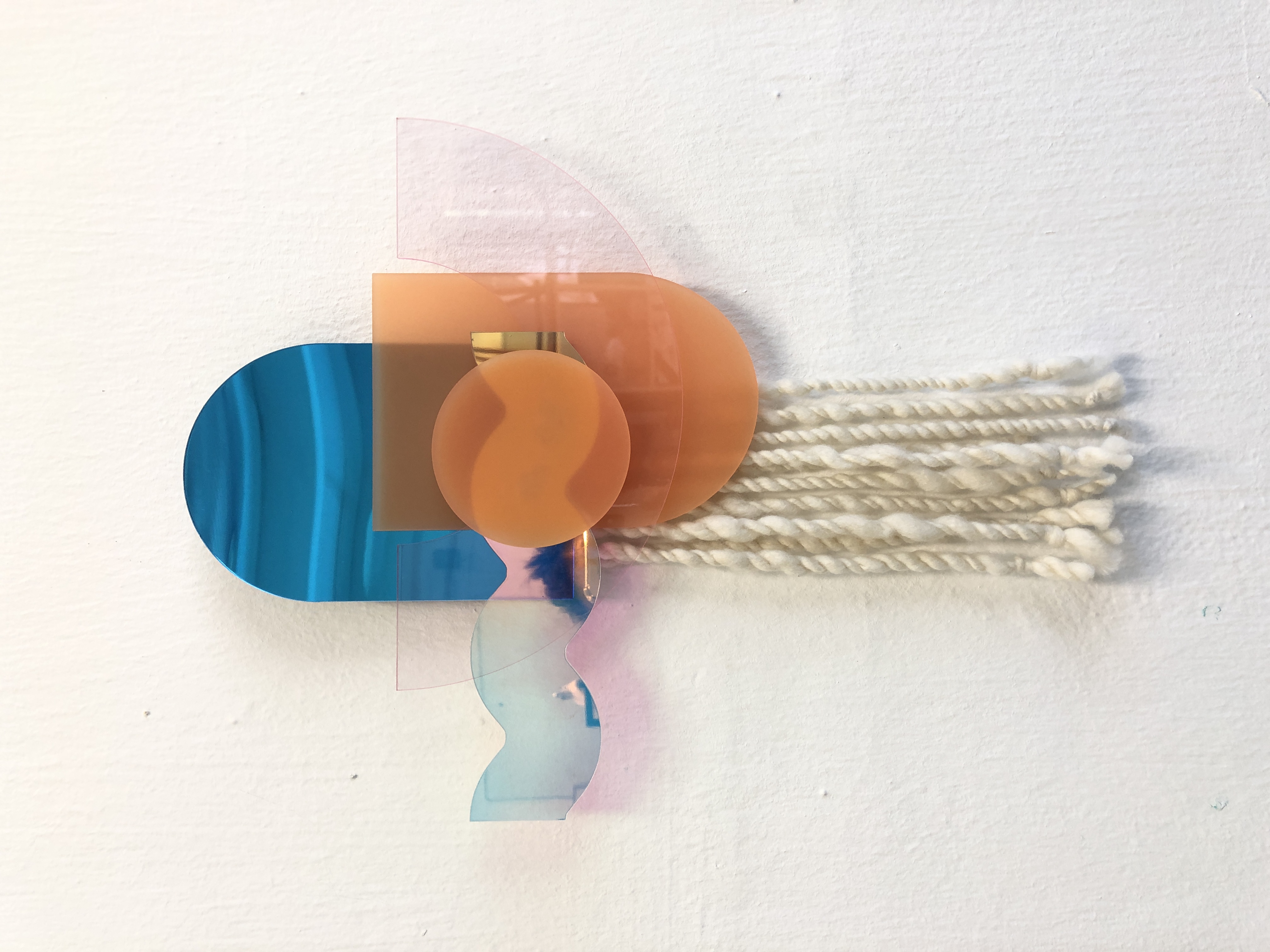 This body of work is part of a continued investigation into the devaluing or trivialising of what are commonly deemed as "domestic" and/or women's crafts - crocheting, macrame, embroidery, knitting, and specifically weaving and handspinning of yarn. In renegotiating its value and place in contemporary art, new synergies place the objects in the intersection between art, design and craft.

Honoring the unseen labor of women and what is termed as "domestic aesthetics", the work was built with materials such as handspun yarn of merino wool and locally-harvested kapok cotton woven into tapestries, which are then balanced in symbiosis with wood and acrylic.
︎The Space Between You and Me
Plane and Envelopes exhibition at UltraSuperNew Gallery, Singapore, 2019.

Planes and Envelopes (March - April 2019) is an exhibition that features Ginette Chittick and Hazel Lim at UltraSuperNew Gallery (Singapore). This exhibition explores the use of the weave to create object-based works through the use of materials such as fabric, yarn and paper.
As two individuals whose academic backgrounds and artistic practices are grounded in design and fine arts, their studio works in the area of weaving had led them to situate their practices within the intersections of contemporary art, design and craft. They are inspired by the work done by individuals and in particular, females whose heritage and cultures are embedded in the craft practices that constitute a part of their everyday life, such as weaving, embroidery, knitting, quilting, crocheting, tapestries, origami, basket weaving, etc.

These artistries, for them, possess the aesthetics of care. Intrinsically tied up mostly with the domestic realm, they involved the intricate patterning or fashioning of materials to create objects and things one can use around and within the house. They are steeped with intentions of care and protection for the people who use them or adorn them in the house.

Planes and Envelopes refers to the mountain and valley folds of the weave, a modular pattern that add up to create and produce a larger object (be it tapestry, blanket, basket, etc). It reflects the aesthetics of care, the ritual of addition, repetition, systems all interwoven with care and dedication.

For Ginette, she employs a combination of local kapok cotton and wool blend to concoct a handspun yarn that she will used to create a series of tapestries and objects made primarily of soft materials. For her, the aesthetics of care is dominant in her work not purely in the use of the handmade yarn but also in the process-based techniques and the meditations on individual space during the making process.

Hazel creates modular pieces of paper that are repeated and interlocked with one another. Using transparent and semi-transparent paper of varying shades, she joins the modular parts to form large-scale malleable pieces of sculpture that uses the properties of the coloured paper to diffuse and reflect light and shadows. The joining of the modular pieces for her is a type of weave, where individual parts come together to form something larger in scale and form. Herein, her works take on a wider spectrum of light , colours and shadows through the use of acrylic pieces with the paper.

Publicity materials and interviews for this exhibition can be found on these sites:

Leaders of the pack (Plural Art Magazine, 10 April 2019): https://pluralartmag.com/2019/04/10/leaders-of-the-pack/